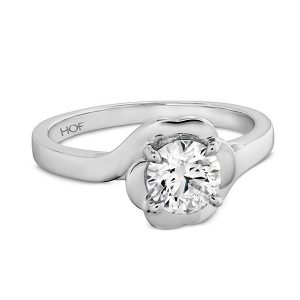 You're ready to get down on one knee and pop the question, but first you need the most important ingredient to your proposal – a stunning engagement ring. You've probably spent hours poring over the inventory in local jewelry shops, looking at pictures online, and are still feeling lost. How do you find the right option from amongst the myriad of engagement rings for sale in New Jersey?
Know Your Budget
One of the single most important things to do is to know how much you can afford to spend. This will determine a great deal, and will make a significant difference in not only the ring that you ultimately purchase, but also where you're able to shop for your ring. Do you have cash to pay for the ring upfront? Are you going to need help with financing? Know what you'll need to do, how much you can afford, and then stick to that.
Don't Buy with Her
Yes, it's tempting to look at engagement rings with your intended, and it can be a lot of fun. In fact, it's recommended that you get her feedback on ring types, cuts she prefers, and more. However, don't do it when you're actually shopping for rings. If you're paying attention, you should be able to glean enough information from your intended's likes and dislikes that you can make an informed decision and buy an engagement ring without her with you. Make it a surprise.
Know What Stone Shapes She Prefers
One of the most critical considerations here is the shape of the largest stone in the setting. Does she prefer square cut? Princess cut? Round cut? Would an oval cut or heart-shaped stone be more to her liking? Classic cuts like round and princess offer more inner fire within the stone, but cuts like square, oval and heart are more unique. Know what matters most to her and buy that.
Know Her Metal Preference
There are plenty of options when it comes to metal for engagement rings, but you need to buy with an eye for what your intended prefers. Does she love the deep luster of yellow gold? Does she prefer the sparkle of white gold or platinum? Is rose gold more her thing?
Perhaps the single most important piece of advice when buying an engagement ring is this – work with an expert jeweler who can help you make an informed decision. We invite you to get in touch with us at Lincroft Village Jewelers to learn more about our inventory and get the advice and guidance you need.