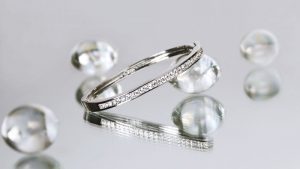 Every single love story is personal and unique. The ring you present to your new fiancé should be just as unique. Whether a particular song was playing when you two met, or a certain smell reminds you of her, every couple has an interesting story. Your diamond engagement ring should also have a story.  Custom-made engagement rings are an excellent way to show your love and uniqueness to the world.
Be Yourself
She may be the one to wear the engagement ring, but with custom, you can be a part of it too. You should design her ring with her in mind, but it is also a way to express yourself, and interject a little of your personality into this shared symbol of your love. You and your soon to be wife are a unique couple and your ring can be made to represent you both. When it's time for wedding bands, the two of you can design bands for both of you that connect to your unique engagement ring.
One-Of-A-Kind Icon Of Your Love
The ring you choose is an icon of your love for the woman you've chosen to be with for the rest of your life. She's a one-of-a-kind gem, so you might want a ring that is as unique and precious as she is. Custom rings can be traditional and classic, vintage, modern or wildly creative but whatever their style, you can put your unique stamp on it. Even a simple solitaire can be personalized with engraving or the addition of small gemstones.
Completely Design Everything
Designing a ring can seem like a daunting project. Choosing the metal, style, and gemstones, and getting it right can put you under a lot of pressure. Find a jeweler who specializes in custom made rings and let her advise and guide you. If you know your fiancée's taste and feel like you can design a ring she will love, then go for it. If she is the more discriminating sort, or has very particular ideas of what she wants, make use of tools like her Youtube page or get her involved in the process. Some women will be ecstatically excited to have a hand in the design of their own ring.