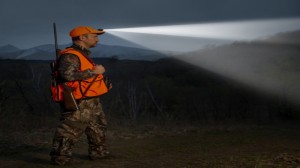 A good running hat could change the way you run and when you do it. Many of the 5 Club, or those who wake up at around 5 AM each day, are runners. Whether you're part of the 5 Club, or you just love how the day looks when the world is just waking up, running in the morning is pretty sweet. There's something special about running through grass that is still damp from the night before, or having showered and run ten miles before most people have hit their first snooze button. Running early in the morning has its advantages, but it can also be difficult. Getting out of bed, dealing with the cold and making sure you're seen in the dark are all reasons why many, many people don't wake up to run at 5 in the morning.
Safety, Now That's Using Your Head
Running early in the morning usually means it's still dark, especially in the winter. Running in the dark can be dangerous and difficult, so it is important to use caution when hitting the pavement. The hose your neighbor left on the sidewalk could be a potential tripping hazard, for instance, and that could end your run before you even break a sweat. Another potential hazard to running in the dark is not being seen.
Most running hats come with reflectors that will help you be seen, but running hats with built in lights are best when it comes to safety. Powercaps are one such hat, and made using LED technology and the latest wicking performance fabrics. Using a good running hat that illuminates the road in front of you while making sure drivers, other runners and cyclists see you, are important to you and the safety of others.
Trail Running And Finding Your Shoes In The Dark
Waking up in the wee hours of the morning takes discipline. One of the hardest parts is not waking up your significant other. Throwing on your trusty hat equipped with LED lights is a great way to find your favorite socks or shorts without having to flip on the light and disturb sleeping beauty. And, don't forget about trail running. Trail running is one of the best ways to enjoy nature, but running in the forest means new obstacles even on trails you've run for years. Be sure to see everything by keeping your path illuminated with proper light.
For more on how running hats can make running in the dark much safer, visit Panther Vision