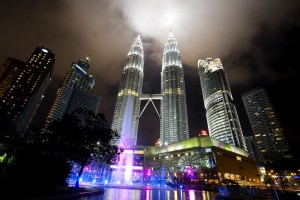 "Sustainability" is not just a "buzz" word, it is a commitment made by companies to manufacture the best kinds of products that reduce waste and provide consumers with safe and healthy environments. That is why we at Wolf-Gordon are devoted to manufacturing products that meet all the requirements and standards needed to maintain an environmentally friendly indoor atmosphere.
Our featured listing of organics and green-friendly wallcoverings make it possible for commercial offices and residences to maintain an aesthetically pleasing and environmentally sound inside decor.
In fact, our products are frequently used in LEED Certified buildings. LEED, which is short for Leadership in Energy and Environmental Design, is a major and influential designation in the world of sustainable interior design. A LEED Certified endorsement for a building can be compared to a gas mileage rating for a vehicle.
Obtaining LEED Recognition
When a building is LEED certified, it has accumulated a set amount of points for a number of energy-related features. Therefore, points are accumulated and tallied for such categories as overall energy savings and access of a building to mass transportation.
Therefore, to be LEED Certified means that a business is following all those initiatives that will reduce the consumption of energy and waste, whether it has to do with their location or the construction or decorating materials they use.
A Better Life Indoors
Indeed, a LEED Certified building is a building of note, as this green building certification system is used to recognize green building design and material applications that are safe, sustainable and healthy to utilize. That is why we at Wolf-Gordon are pleased that we provide the kind of wallcoverings and upholstery materials that lead to a better indoor life – one that places a major emphasis on LEED Certified standards.
A Major Designation
The LEED Certified designation is based on mandates set by the U.S. Green Building Council, or USGBC, and features worldwide-accepted benchmarks in the areas of construction, design and operation of sustainable structures. LEED, which was established in 1998, has evolved into a system that recognizes sustainability in key areas of environmental and human health.
It's not difficult to recognize how our products here at Wolf-Garden fit into LEED-friendly building designs as we offer wallcoverings, such as cork, which are anti-microbial as well allergen-free. We promote the use of materials that are easy to clean and maintain, lend beauty to a home or office and which are breathable. For example, our linen wallcoverings showcase "clean and green" fabrics that are both versatile and elegant…
Besides sustainability, we showcase a variety of patterns, styles and textures in our LEED-friendly line of products. Wallcoverings, panels and other office furnishings are made innovatively, keeping health and safety in mind.